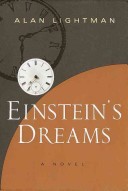 1905, known as Albert Einstein's "annus mirablis," saw him produce some of the most inspired work in the history of natural philosophy. From the outside, it is easy to see the import of this work – in a single year, Einstein established whole new fields of study, including fundamental discoveries in quantum physics and the special theory of relativity.
But what was it like on the *inside*? What was it like to *be* Albert during that year, the Swiss patent clerk discerning the true nature of the universe in his spare time? What is the essence of scientific discovery, of seeing so deeply into fundamental truths, of "Eureka!"?
Alan Lightman's beautiful novel Einstein's Dreams brings us inside the thoughts of this most famous of scientists through a series of meditations on the nature of time. Imagine time as a stream, "occasionally displaced by a bit of debris, a passing breeze," or time flowing backwards, or a single place where time stands still. Imagine a world where time flows more slowly for those at higher altitudes, where everyone lives in the mountains on houses built on stilts.
In "a world in which people live just one day… [where] a man or a woman sees only one sunrise, one sunset." December babies live a cold life, while June babies only know warm. Those born at night tend to be insular, not venturing outdoors even when daylight finally breaks, while those born during the day become depressed in the literal twilight of their lives.
Written in short chapters with brief sentences like brushstrokes on a painting, Einstein's Dreams is an exercise in "What if?" – much like scientific thought itself. Each chapter takes as its premise some new truth about time, using it as the basis for a meditation on love, loss, relationships, life, and death. In the world without memory, lovers find that every night is the first night of passion. At the point where time stands still, mothers refuse to let go of their children, staying where "the beautiful young daughter with blue eyes and blonde hair will never stop smiling the smile she smiles now, will never lose this soft pink glow on her cheeks… will never think thoghts that her parents don't know, will never know evil."
But beyond the meditations on time, I found the interludes, describing Einstein in the Zurich of 1905, to be even more fascinating. Here is Einstein walking slowly down Speichergasse with his friend Besso; here is Einstein absentmindedly staring off into space during dinner; here is Einstein sitting in a fishing boat, looking for shapes in the clouds.
I've been fascinated by biographies and portraits of great scientists since I first read Genius, James Glieck's fabulous portrait of Richard Feynman. What is it that makes these great thinkers tick? Why do they see deeper or farther into the truth of the universe than the rest of humanity? How do they discern this truth, and how do they manage to convey it to the rest of us? Einstein's Dreams is another fantastic portrait of a great thinker in his prime, seeing what no one else has seen.